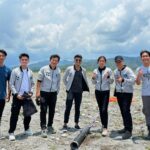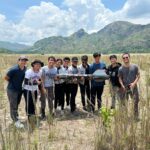 CAPAS, Tarlac (May 22, 2023) — The country's fledgling space agency successfully launched a hybrid rocket from Crow Valley here last Friday.
The rocket, TALA, is 10 feet long and weighs 15 kilograms made of 3D-printed advanced composite materials.
The Philippine Space Agency (PhilSA) said that the rocket successfully flew five kilometers into the atmosphere, deployed its payload, and then parachuted down the Crow Valley Gunnery Range.
PhilSA retrieved the body of the rocket and is now collecting and analyzing the launch data.
TALA payload
The rocket's mission is to bring a Can Satellite (CanSat) up to approximately five kilometers into the atmosphere. CanSats are cans equipped with sensors and other instruments to gather environmental data typically used for research.
A student project
PhilSA relied on a high school rocket project from St. Cecilia's College-Cebu, Inc. back in 2017. The high schoolers launched a three-foot solid propellant model rocket for World Space Week 2017.
That same high school team was awarded a research grant by the Department of Science and Technology – Philippine Council for Industry, Energy and Emerging Technology Research and Development in 2018 to design and develop the TALA hybrid rocket which can propel a can satellite.
"The technology demonstration of a hybrid propelled rocket is seen to further stimulate space science and technology applications research in order to advance innovation and development of our own space assets for research, exploration, and commercial activities," PhilSA said in a statement.
The rocket launch was the culminating activity of PhilSA's Space Technology Applications Exhibit and school tour in Tarlac.